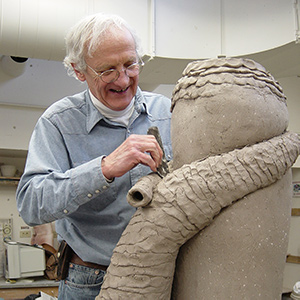 contact
Artist Statement
I look back on fifty years of making ceramic art and see a period of intense change. Analytically the diversity of my pieces are an indication of what has been a great adventure. When making ceramic pieces, the process is important to me because that's when I create and learn. I love the action and reaction. The immediacy, the uncertainty and the accidents inherent in working with clay and the firing are all important aspects of my work. My ideas come from everywhere. I like to sketch and work out a concept. I'm not always certain what it's saying to others because I make it for myself and can only hope the spirit of my pieces transcend the object and give enjoyment and pleasure to others. My attitude towards my work is best expressed by the 19th century philosopher George Santayana's statement, "Art is everything". Not everything is art but an important part of our humanity.
-- Don Bendel
Bio
Obituary
Don Bendel, a Flagstaff, Arizona resident, artist, and educator since 1970, passed away on Sunday, March 24th, 2019. He was 83. Don was born in LaCrosse, WI in 1935 to Victor and Farrell. He served in the Navy and graduated with various degrees from Winona State College, the University of Wisconsin, Milwaukee, and ASU.
In 1956, Don married his high school sweetheart, Ann in LaCrosse. They had three children.
Don began teaching at NAU in 1970. In 1984, he brought Dr. Yukio Yamamoto to NAU. This resulted in construction of the two Tozan kilns at NAU, which he began building without permission. Don's art and teachings took him around the world, and his pieces can be found in collections in many countries.
After "retiring" in 2000, Don also taught part time at CCC, supported local artists, attended his longtime congregation, Peace Lutheran Church, ate ice cream with his family, was a friend of the crows, and overall was "pretty good alright".
Obituary sourced from the Arizona Daily Sun: here