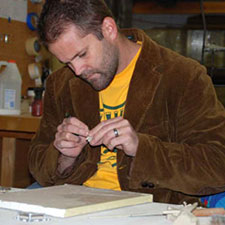 contact
Artist Statement
The object is the catalyst to unspoken story telling. When trying to connect to a bygone time it's the object that allows us passage. What hands have tugged this handle? How many times have these keys been pushed, and by whom? What was its function and how was it relevant? It's these questions that I am interested in generating and sharing.
An object retains the story of its life. As an object travels through time, it gathers story and soul. This can be seen in every nix, tear and worn surface. Much like the wrinkles of an old farmer's face, objects are flawed by the trials of their life. Replacing the workable parts of the object is a necessary process in revealing each objects story. By replacing parts of the found object, I am simultaneously killing the original reason for creation, while immortalizing the life it has lived.
I believe that it's the unknown, untold stories within each object that are important, if only to remember that they were once functional, useful and loved. My intention is to bring focus to the loss of these objects and all the stories they may carry.
-- Nate Betschart