Back to Vectors exhibition page
Nyasha Madamombe
2020 Artaxis Fellow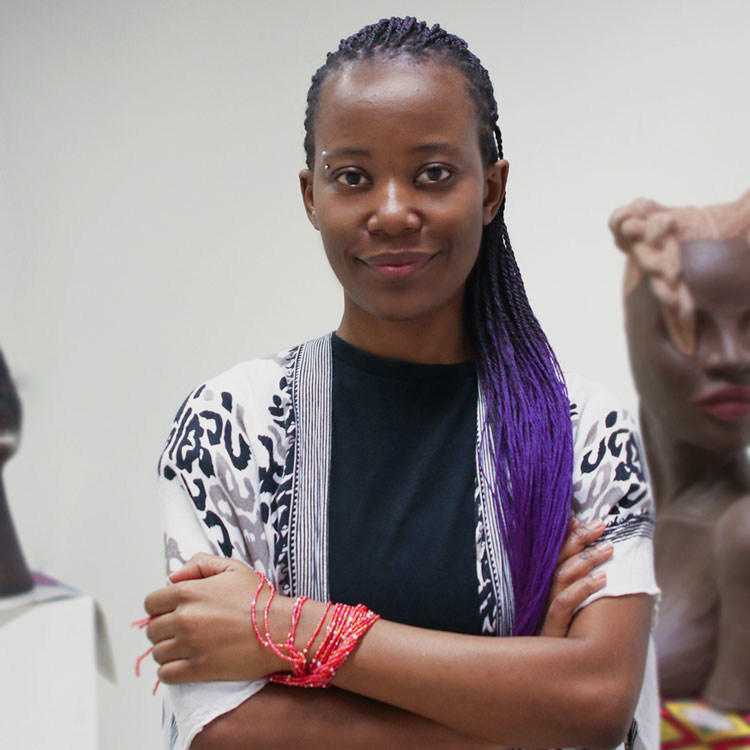 Nyasha Madamombe was born in Harare and raised in Chitungwiza, Zimbabwe. As an interdisciplinary artist and through a combination of tradition and technology, she examines issues related to collective memory, celebration, culture, and the spiritual realm. She received her BFA with a concentration in Stone Sculpture at the Chinhoyi University of Technology in Zimbabwe. Her work has been exhibited in Zimbabwe including at the National Art Gallery, in Johannesburg, South Africa, Tennessee, Louisiana and Michigan. Nyasha is currently an MFA candidate and Graduate Teaching Associate at the University of Tennessee, Knoxville, USA.
Statement
My work investigates human connections and my relationship with my present world, via the ancient Zimbabwean world of my ancestors; Ancestors who exist now only in traditions, stories, artifacts, and through me and my experience in new worlds. I am guided by the ancient African philosophy of Hunhu/Ubuntu which is the essence of that which makes us human: our compassion and connection to each other, for "I am who I am because we all are".
My work exists continuously in two parts and speaks to the duality of existing between two places. Where I am from (Zimbabwe) and where I am currently (America); the corporeal/the virtual; the world of object making/the world of research; my experience/the experience of others. I am interested in storytelling through the presence of absence, by capturing an echo of the past, of what is no longer a ritual in the physical and survives in memory but also as a chance to re-imagine and evolve. My work is supported by oral history, archived histories that were told for us and untold histories that will pave a future for us. Specifically, I am telling the stories of black women's collective joy, collective pride, and self. Not denying our struggles but celebrating our greatness as these complex, larger than life beings, and knowing always that I am because of those who were before me.